Truck Tipper Body Refurbishment
Truck Tipper Body Refurbishment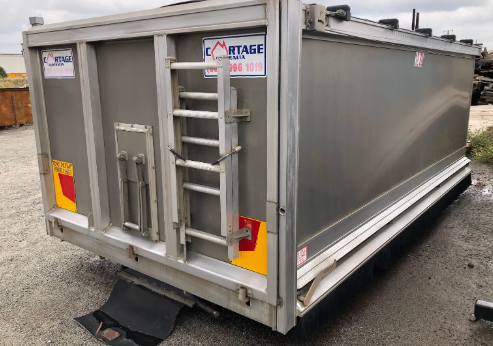 Tipper trucks are essential to a number of businesses – mainly those involved in the manufacturing and construction industry.
Any vehicle downtime your business experiences can set you back and cost you thousands of dollars or more. Vehicles needing repair can cause delays, missed deadlines, and potentially lost contracts.
At Mackay Aluminium Industries, we can refurbish your truck tipper body and ensure it's in great condition. We will work quickly and efficiently to repair your trucks so they can get back on the road in the least amount of time possible.
Do you need your truck tipper refurbished ASAP?
Get in touch with our team today.
Our Truck Tipper Services
Here are some of the services we offer for your tipper trucks and other vehicles:
We only use the highest quality aluminium and stainless steel of various grades and thickness to match your truck's work-load.
Mackay Aluminium Industries has 30+ years of experience when it comes to tipper truck repairs and refurbishing. We constantly keep up to date with the latest technology and trends to ensure that we have the most comprehensive knowledge to ensure that our repairs will stand the test of time.
We also make sure that every modification made to your truck passes Australia's federal regulatory standards. Safety is still our number one priority – not just for the precious cargo your trucks are hauling or delivering, but also for the lives of your employees.
To find out more about what services we can offer for your trucks, give us a call and we will be happy to help.
Mackay Aluminium Industries has been providing Mackay and surrounding areas with high-quality aluminium and stainless steel products and customised solutions for over 30+ years.
No matter what type of truck or tipper refurbishment you need, our team has the expertise to get it done.
We are Mackay's #1. choice for many respected businesses in various industries and even local government councils for their fabrication and repair needs.
We also follow the Australian standards for safety and manufacturing for every project we undertake. Safety and reliability are essential to us, especially since a fair amount of the items we fabricate and supply are necessary to keep the lives of workers and others safe and secure.
Our commitment is to deliver our best work to enable you a smooth operation for your business and minimal downtime.
Ready for your truck tipper refurbishment service?
Get in touch with us today.
Do your tipper trucks need refurbishment?
Contact us today for a 100% FREE quote.