History of Mackay Aluminium Industries
At Mackay Aluminium Industries, we have been servicing the Mackay Region since 1986, under the management of Don Buckeridge and his son Don Buckeridge Jnr.
The business was relocated to 16 McCulloch St in North Mackay at the end of 2007 to make way for the new Forgan Bridge Project. During the move, we took the opportunity to install some upgraded machinery to improve the services that we offer. Including a 3m guillotine capable of cutting up to 16mm Aluminium) and a 3m CNC press (120 tonne).
We also do MIG and TIG welding of aluminium and stainless steel, including large or small repairs and we can TIG weld cast aluminium parts as well. We have a diverse range of customers from local and state government, mining companies, local industry and businesses and people looking for boat canopies, ute canopies, aluminium toolboxes or any aluminium repair or aluminium fabrication work.
Mackay Aluminium Industries prides itself on quality workmanship and the fact that it has many satisfied customers who keep coming back year after year.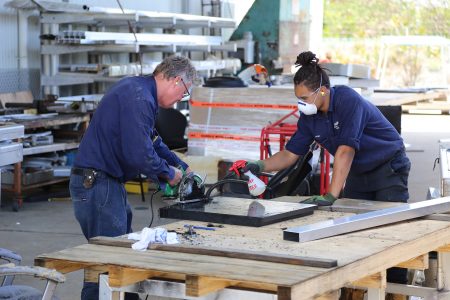 No matter what requirements and specifications you may have, our team of experts can create industry-leading results that pass Australian Standards. Safety is our number one priority at all times.
Get in touch with our team of professionals today to discuss your aluminium or steel fabrication needs.
Commercial
Business Owners
Tradies, shipowners, and almost any commercial business you can imagine, requires high-quality metal fabrications for their day to day work. We help provide effective solutions that improve the time-efficiency of projects, increases the safety of employees or passerby, and boosts the overall professionalism of any business.
Whether you're in the mining, agriculture, or marine industry — ensuring the safety of your employees is a priority. With the correct equipment, you enhance the working capacity for your team, while also keeping them safe. Some examples of our services for industrial companies include gangways for marine industries and custom fabrications for the mining industry.
Looking for a custom fabrication for your water tank? Want to add a canopy or roof rack to your ute? At Mackay Aluminium Industries, we cater to everyone. Even if you're not running an industrial operation, we'll still provide you with high-quality materials, excellent service, and at cost-effective rates.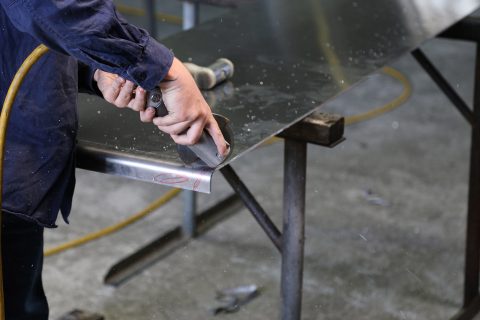 Mackay Aluminium Industries has been providing Mackay and surrounding areas with high-quality aluminium and stainless steel products and customised solutions for over 30+ years.
No matter what custom fabrication you're after, we have the expertise to guide you through the process and ensure we reach an end result that you'll be happy with.
For all our work, we follow the Australian standards for safety and manufacturing. Safety and reliability are two of our priorities for every single project.
To work with Mackay's #1. Aluminium and steel fabrication company, get in touch with Mackay Aluminium Industries today.