Custom Made Fuel and Water Tanks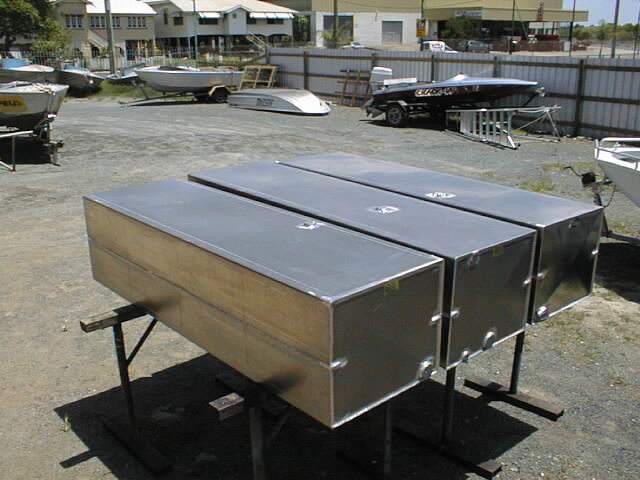 Whether for home, marine, or commercial use, Mackay Aluminium Industries can fabricate bespoke aluminium and stainless steel fuel and water tanks for you.
We produce a wide range of tanks, including diesel storage tanks, home water tanks, and more.
Stainless steel and Aluminium fuel and water tanks are essential and can be used in many different applications. They are used for storage and collection purposes, especially if you live in a remote area, and they come in handy during times of drought, water rationing, fuel price increases and more.
Ready to order your fuel or water tank?
Water tanks can store not just drinking water but also water for farming and irrigation, fighting fires, for livestock, hospital and medical use, personal hygiene, chemical manufacturing, commercial laundry, rainwater collection, even sewage and waste (grey water) and more.
At Mackay Aluminium, we offer stainless steel and aluminium water tanks for homes, offices, boats, campers, commercial buildings, food outlets, and even schools.
We only use the highest grade aluminium and stainless steel when fabricating our water tanks.
Each tank is joined and welded meticulously to prevent it from springing leaks as well as to block out - or if it is a wastewater tank - keep in - potential contaminants.
Fuel or petrol tanks are safe storage containers for flammable fluids, including petrol or diesel. Fuel tanks are used for several applications.
At Mackay Aluminium Industries, we produce petrol and diesel storage tanks made of aluminium and stainless steel used in the following:
Construction sites
Residential homes
Military applications
Boats, trucks and campers
Hospitals for auxiliary power
And more...
We can also modify and reinforce existing fuel tanks.
Looking for something else? Need additional help?
Get in touch with our team for assistance today.
At Mackay Aluminium Industries, we use only the highest quality stainless steel and marine-grade aluminium for all of our fuel tanks. We take great care in fabricating these tanks because of the highly flammable contents they will carry.
Each completed fuel tank undergoes numerous inspections and tests – including pressure tests to ensure that they are strong and that they meet federal laws and standards.
Be it water or fuel tanks, MAI can fabricate them quickly based on your specifications and needs. We can produce tanks in any shape and size, made to measure for your boats, trucks and more. It is also possible for us to use your old tank as a pattern.
Each tank strictly adheres to Australian safety standards and are built to last, ensuring years of safe and leak-free performance.
Call us for your water and fuel tank needs.
We would be happy to discuss your project with you and provide a 100% FREE quote.
Want a custom-made fuel tank or water tank?
Contact us today for a 100% FREE quote.